Data for Municipal Infrastructure Assets
Collecting and leveraging data to support key decision making about municipal infrastructure
Role: Programme Initiator and Co-lead (2019-2020)
---
Impact
Between 2019 to 2021, Data4MIA has provided 120 engineering students in 3 co-horts with the opportunity for tangible skills development and exposure to work in the public sector. The outputs of the Data4MIA programme have directly impacted municipal infrastructure policy in South Africa, with a shift from new built to maintenance. Our recommendations have been incorporated in the revision of the Municipal Infrastructure Grant, where 5% of the budget have been allocated to infrastructure asset management, and 10% for urgent repair and refurbishment of water and sanitation infrastructure. Why was Data4MIA so critical in enabling this? By capturing and analysing data, the programme provided the necessary evidence to understand the scale of the problem, and thus shift policy and resources to fix it.
Description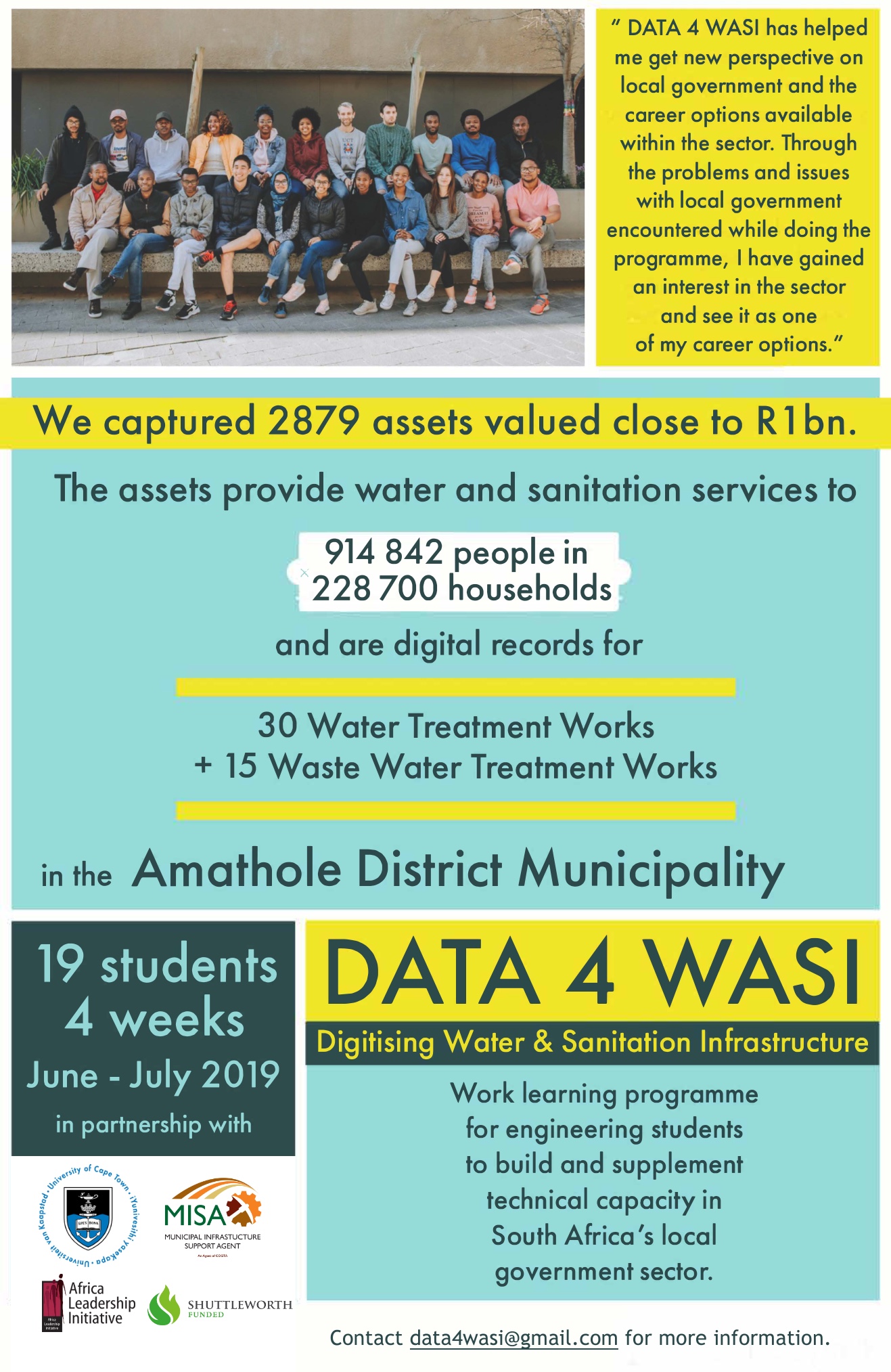 Data for Municipal Infrastructure Assets (Data4MIA) aims to address the critical state of South Africa's municipal infrastructure, in particular water and sanitation services. South African Municipalities have been facing severe challenges in delivering infrastructure and associated services that meet their residents' needs. The reasons are complex and include a shortage of skilled technical professionals such as engineers and project managers, difficult work environments and poor data capturing practices. Very few municipalities collect the data necessary for effective operations, maintenance and planning of infrastructure.
Data4MIA is a student internship programme that has been designed to assist local government with collecting and updating data required for successful management of infrastructure assets. The programme exposes students to the technology, complex systems, software tools and challenges that local government uses and encounters on a daily basis to deliver critical infrastructure and services to the people of South Africa. The programme was developed in collaboartion with the Municipal Infrastructure Support Agency and has a direct impact on data management for Water Service Authorities in rural and distressed municipalities. The programme was initially conceptualised as Data for Water and Sanitation Infrastructure (Data4WASI) and rebranded after the first pilot.
Supported by
Municipal Infrastructure Support Agency
University of Cape Town
Engineers Without Borders South Africa
Africa Leadership Initiative
Shuttleworth Foundation Flash Grant
Featured in
UCT News 2021-03-04: Win-win for municipalities and engineering students' professional skills
UCT News 2019-09-21: EBE students' 'ultimate community development work'